Rhysently Granted- 20 years later
Rhys Darby and Grant Lobban
are
Rhysently Granted
In 1996 Rhys Darby and Grant Lobban formed Rhysently Granted.  Part sketch comedy, part music, all surreal silliness, they were a huge hit in Christchurch with their fanbase reaching the double digits.
They lasted a short time, performing at pubs and in two comedy festivals. But, they're back, and its 20 years since their first gig at the Southern Blues Bar in Christchurch. Join us to see where these two quirky comics began, and where they are now!
Rhys Darby's big break came with HBO's Flight of the Conchords, and he has gone on to star in countless US TV shows and movies, including the recent The X Files reboot. He has toured as a solo standup constantly since he left NZ in 2001 for the UK.   Rhys stars in upcoming US TV show Wrecked and has several other shows in development in the US.
Grant Lobban is best known as the Ticket Guy in A Night at the Classic and Damo in Shortland Street. The past 20 years have been filled with toiling as a chef, call centres and the occasional gig as a standup. Grant is also the star of many TV commercials, specializing in selling his soul to the lowest bidder. His biggest success was when he dressed as a life sized iron for Sunbeam. Unfortunately, they refused to let him keep the costume. Grant is excited to see what happens when these two best friends hit the stage together again!
Rhys and Grant will be filming this return for a documentary. Just in case there is some pure gold in there.
"Wacky with a capital W"
The Dominion, 1997
"These two young men possess the indefinable quality which makes a comedy duo successful."
The Press, 1997
Rhysently Granted
Rangatira at Q Theatre
Tuesday April 26 to Saturday April 30, 7pm
Book at Q Theatre
Tickets $27.50 / $22.50 Booking Fees will Apply
For more information rosie@awesomenesscomedy.com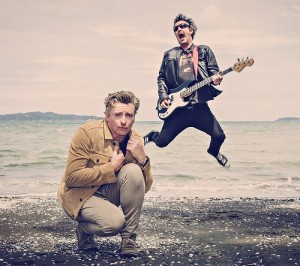 Press Release

13.38 KB